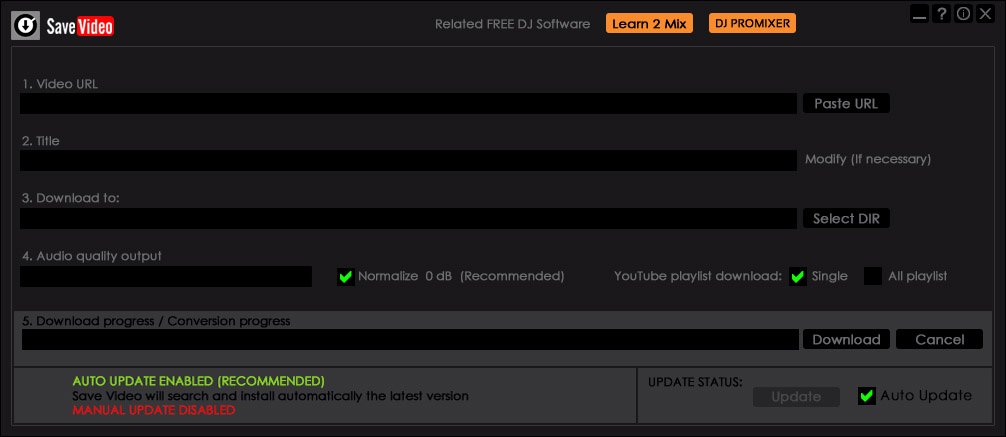 *Download available only for Windows
Save Video is an easy  downloader that offers multiple options for download and convert your favorite video from YouTube to an audio file.
TWO EASY STEPS
Copy and paste the selected YouTube link, and just download and convert to WAV or MP3.
COMPLETE AUDIO OPTIONS
Convert to WAV or MP3 files:
WAV FILE: PCM file without compression (44.100 Hz 16 Bits).
MP3 FILE with different bitrates: 320 Kbps (best quality) 192 Kbps (high quality) 128 Kbps (mid quality) 96 Kbps (low quality).
AUTO UPDATE / MANUAL UPDATE
Save Video has two possibilities to update the application. Normally the application must be updated periodically and constantly, because YouTube changes periodically their links.
Save Video has two ways to update:
Auto Update: Save Video will search and update automatically to the latest version. This is the recommended option and it is selected by default. This option disable Manual Update.
Manual Update: Search and update manually the application. If Save Video does not work, or when you check "Video URL" appears "VIDEO NOT FOUND", please check for updates by clicking "Update" button.

PROFESSIONAL AUDIO SETTINGS: NORMALIZE
What is Normalize?
It is a process of uniformly increasing or decreasing the amplitude of an audio file. Normally it increases an audio file with low amplitude level (very usual on Youtube), improving the sound quality with a professional pluging of an Audio Editor.

File without Normalizing

Normalized file


*Download available only for Windows
© DMS Down 2021
Privacy Policy – Terms of Use